When I think about the career Ken Griffey Jr had, one not-so-popular maxim rings true; Winning Is Overrated.
One of the great moments in Baseball history happened when Jr. Griffey ran the bases, not for 1 of his 630 round-trippers, but for the American League Division Series title in 1995, when the Mariners defeated the Yankees in a deciding 5th game to advance to the ALCS. The MLB Playoffs have become so monotonous with all the added teams, divisions and wild cards the regular season almost doesn't matter anymore. However, this game and that moment did matter for Seattle Mariners Fans and Ken Griffey Jr admirers like myself. It was the most joy we'd ever seen from 'the kid' in his entire career. He'd played in so many games, hit so many HR's, drove in so many teammates and made more amazing plays than anyone ever, but he had never experienced post season success of any kind till then.
In 1990, Ken Sr. was released and picked up by the Mariners squad to help mentor Griffey Jr and the rest of an inexperienced team. The M's were one of the greenest teams in the Show & the elder Griffey was a 2 x Champion with the Big Red Machine teams of the Cincinnati Reds in '75 and '76. The Father and Son combo made for some All-Time Great Baseball Moments, like when they hit back-to-back HRs in a game and played in several contests side by side in Left and Center field. Griffey Jr would later tell reporters those were the most special times he would ever have on a baseball diamond, he and his father playing together.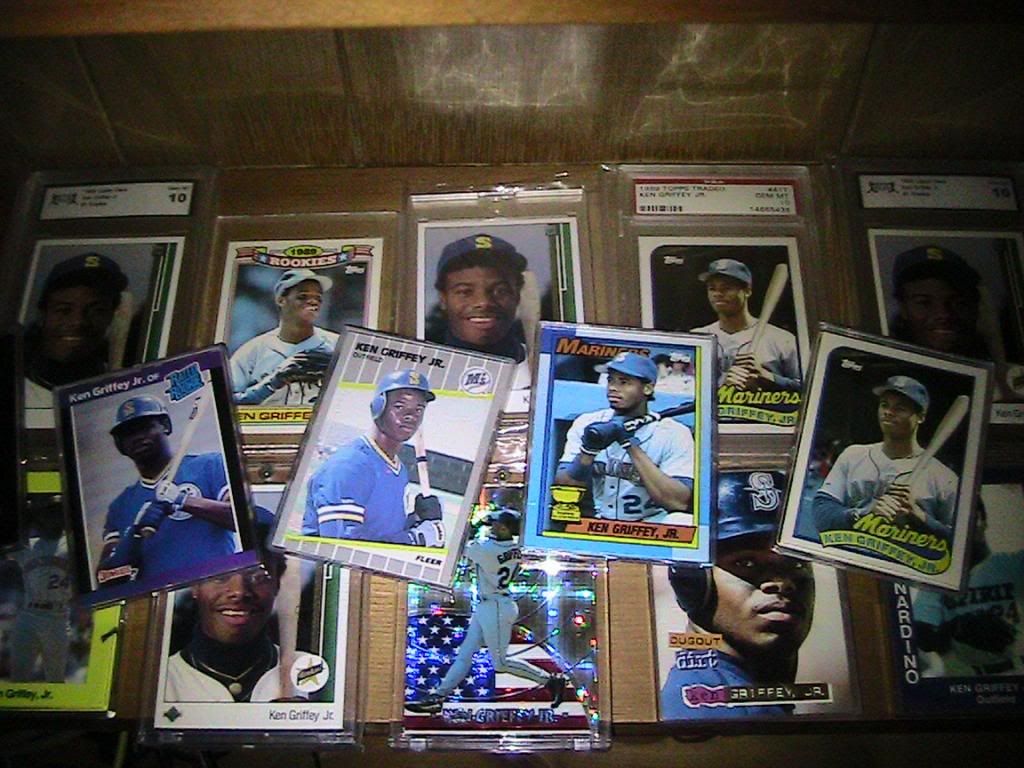 So when Ken Jr helped his Mariners to the playoffs in '95, he was 25 years old, the best player in the game and already the toast of Seattle(way better than Starbucks). But when he scored that winning run against the Yankees in the ALDS and his teammates mobbed him on the ground at home plate, everyone knew Junior was determined to win. Unfortunately, the M's lost to Cleveland in the ALCS and Griffey only played in 2 more playoff series' in his entire career, both losing efforts(Baltimore '97 & Tampa Bay in '08).
For 10 years, from '89 to '99 Ken Griffey Jr was the Man. He was the best player in the game and Hank Aaron's HR title had a future date with Junior cuz after 10 seasons and 398 HRs, at 29 years of
age Griffey could coast to 756. His first year after being traded to his Dad's Reds in 2000, he stayed on pace to catch Hank with a 40 HR season, but that would be the last time Junior would ever hit 40 HRs in a season and he was only 30 years old!!! Think about that. 438 HRs at age 30. If he averages 30 HRs a year for 10 years he'd be right there. Saying it like that sounds so ridiculous and completely minimizes the feat, but it's frickin Ken Griffey Jr MAN!!!! He could hit 30 HRs right handed if he wanted to. In fact from his 23rd to his 31st birthday he hit 351 HRs, for an average of 44 HRs over 8 seasons, all before the age of 31.
Well we all know how it turned out. The Kid played the game so hard his body broke down. Injuries plagued Junior costing him 3 seasons worth of games from 2001 to 2008. When Bonds, McGwire and many others were juicing their way to the record books, Junior was aging naturally. After the age of 31 Ken Griffey Jr hit 210 HRs. Barry Bonds hit 428 HRs from 32 to 42 years of age. Bonds hit 334 HRs from age 21 to 31. Seems Barry found a way to reach his prime in his mid & late 30s.
Griffey will always be better than Bonds to the informed baseball historian. And ironically enough, World Series Rings evaded the two best players of the generation. I'll never have sympathy for Barry Bonds and his ego and I'll always wish Junior would've stayed healthy. I'll also always imagine what might have been if Griffey would've gone genetically altered to keep up with the Jones'. But then again I know he was of better character, and History will Recognize & Appreciate George Kenneth "Ken" Griffey Jr. that much more for his Uncompromised Integrity. 762 for Barry, HA!!! Try 850 for THE KID. CALL HIM JUNIOR;)